Christchurch
Christchurch is one of the world's most unique destinations, combining urban regeneration and innovation with heritage, culture and exhilarating activity. It's the gateway to the beautiful Canterbury region, featuring dramatic vistas and adventure sports set against a backdrop of lofty peaks. Christchurch is the largest city in the south island of New Zealand and the seat of the Canterbury region, it's a city of exploration, where urban regeneration and heritage thrive. The city is constantly evolving, always giving locals and visitors something new to explore. Expect street art and innovative projects, a bustling hospitality scene and established green spaces. Christchurch is the newest city in the world, and it's time the world rediscovered its secrets.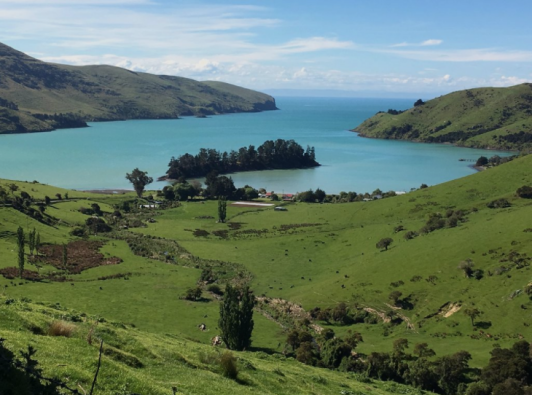 Climate
Christchurch enjoys a temperate, relatively dry climate with rain falling on fewer days than New Zealand's other major cities. The climate is comfortable all year round, although winter nights can be chilly and frosts are much more common in Christchurch than in Wellington or Auckland.
When it's frosty in Christchurch wind conditions tend to be calm, so frosty mornings in Christchurch are often followed by glorious, sunny winter days. Norwester winds are possible at any time of year. The norwester is a fohn type wind – hot and dry – from the Southern Alps that can raise the temperature by 10 or 15 degrees centigrade within an hour or so.
Average minimum and maximum temperature over the year:

Sea Temperature
The sea temperature in both the Pacific Ocean and Tasman Sea, which both border the city of Auckland, is also warming. However, the average sea temperature for the month is only 18°C (64°F), and most visitors who plan to participate in watersports or surfing will want a wetsuit.
Rain
The summer months are drier than the winter months, and in December the average amount of precipitation is 10 mm less than in September, October and November. The month of December receives an average 30 mm of precipitation, which is similar to what visitors should expect in January and February as well. There are an average of 14 rainy days during the month.
Electricity
New Zealand's electricity supply operates at 230 volts, 50 hertz. Plugs and outlets are identical to Australia's - two flat pins forming a inverted-V shape, with a single vertical flat pin below for earth. DO NOT attempt to insert an American two-pin plug into a New Zealand socket by bending the pins - not only will you damage the plug, the voltages and frequencies are different.
Most hotels and motels also provide 110 volt, 20 watt AC sockets in their bathroom for electric razors.

Currency
New Zealand's unit of currency is the dollar (NZ$). All major credit cards can be used in New Zealand, with Visa and MasterCard accepted most widely.
Banking
New Zealand banks are open from 9.30am to 4.30pm Monday to Friday. Some are also during weekends. Automated Teller Machines (ATM's) are widely available at banks, along main shopping streets and in malls. International credit cards and ATM cards will work as long as they have a four-digit PIN encoded. Check with your bank before leaving home.
Bringing cash into New Zealand
There is no restriction on the amount of foreign currency that can be brought in or taken out of New Zealand. However, every person who carries more than NZ$10,000 in cash in or out of New Zealand is required to complete a Border Cash Report.
Currency exchange
Foreign currency can easily be exchanged at banks, some hotels and Bureau de Change kiosks, which are found at international airports and most city centres.
Currency values
Coins have values of 10, 20 and 50 cents, $1 and $2.
Notes have values of $5, $10, $20, $50 and $100.
Public Transportation
Metrocard
The Metrocard is a way of paying for Christchurch's public transport without rummaging for change. More to the point, the Metrocard gives you at least 25% off the fare price. This card is only worth getting if you are planning on staying in Christchurch for a while, as you have to buy the card for NZ$10 and be topped up with a minimum of NZ$10.All you need to do with the prepay smart card is load it up with some money, tell the bus driver your destination, and swipe it on the electric card reader.
Bus Services In Christchurch
The Christchurch bus network is the most extensive and essentially the only cheap and useful public transport network in Christchurch. If you are traveling to and from the regions suburbs and attractions, then there will be a bus service to get you there. Following are some local bus services you may need in Christchurch:
Blue Line – Princess Margaret Hospital or Cashmere – Sydenham Shops – Bus Interchange – Bealy Ave – Northland – Belfast – Kaiapoi – Rangiora

Purple Line – Christchurch Airport or Sheffield Cres – Avonhead Mall – University of Canterbury – Westfield Riccarton – Christchurch Hospital – Bus Interchange – Ara Institute – Ferrymead Shops – Sumner

Yellow line – Rolleston – Templeton – The Hornby Hub – Church Corner – Westfield Riccarton – Christchurch hospital – Bus Interchange – Fitzgerald Ave – Eastgate Shopping Centre – New Brighton

Orange Line – Halswell – Addington – Christchurch Hospital – Bus Interchange – The Palms – Burwood Hospital – Queenspark

The Orbiter – Eastgate Shopping Centre – St Martins – Princess Margaret Hospital – Barrington Mall – Westfield Riccarton – University of Canterbury – Northlands Mall – The Palms Shopping Centre – Eastgate Shopping Centre
Ferry Service In Christchurch
The Diamond Harbour Ferry transports between Lyttelton and Diamond Harbour. Both commuters and sightseers use the ferry service and take about 8 minutes to complete. The ferry departs at least once an hour during the day between the following times:
From Lyttelton, Monday-Thursday – 6:10am-9:30pm, Friday – 6:10am-10:30pm, Saturday 6:50am-10:50pm, 7:50am-7:50pm.

From Diamond Harbour, Monday-Thursday – 6:30am-9:40pm, Friday – 6:30am-10:40pm, Saturday 7:05am-11:00pm, 8:05am-8:00pm.
Christchurch Tram
There're trams in Christchurch. Although, this is meant to be a means of sightseeing more than public transport. You can even have a meal on the tram at night. If you really want to transport yourself around the city centre in style then the tram would be the way to do so. The Christchurch tram takes passengers on a small one-way loop of the city centre stopping at 17 different places. You can hop on at any stop. Trams operate every 15-20 minutes.
Visa
Having a valid passport and the right visa is key to a trouble-free entry into New Zealand. When you arrive, your passport must be valid for at least three months beyond your intended departure date, and if required, have a valid New Zealand visa.
Visa-free in New Zealand
You do not need a visa to visit New Zealand if you are:
A New Zealand or Australian citizen or resident

A UK citizen and/or passport holder (you can stay up to six months)

A citizen of a country which has a visa waiver agreement with New Zealand (you can stay up to three months).
If you don't meet the above, then you'll need a visitor visa, which allows you to holiday in New Zealand for up to nine months. The fastest and easiest way to apply for a visitor visa is online.
Before traveling to New Zealand, you need to make sure your passport is valid for at least three months longer than your expected departure date. If you come from a country that needs a New Zealand visa to enter, please be sure to apply in advance.
If you have a biometric ordinary passport (or electronic passport) and are over 12 years old, you may be able to use New Zealand Customs eGate service. This allows you to complete your Customs and Immigration checks faster so you can get on with enjoying your visit to New Zealand.
More information about visas
The visa and immigration information on this page is just a summary. For everything you need to know about coming to New Zealand, visit Immigration New Zealand.
On arrival
You will need to complete a Passenger Arrival Card before passing through Customs Passport Control. A passenger arrival card will be given to you during your flight. If not, cards are available in the arrival area.
Invitation Letter
The secretariat will send official invitation letters upon request. Such an invitation is intended to help potential attendees raise funds or obtain visas. It is not a commitment on the part of the organizers to provide any financial support.
If you need an individual invitation, please feel free to contact us.
Copyright ©www.icnaome.org 2021-2022 All Rights Reserved.